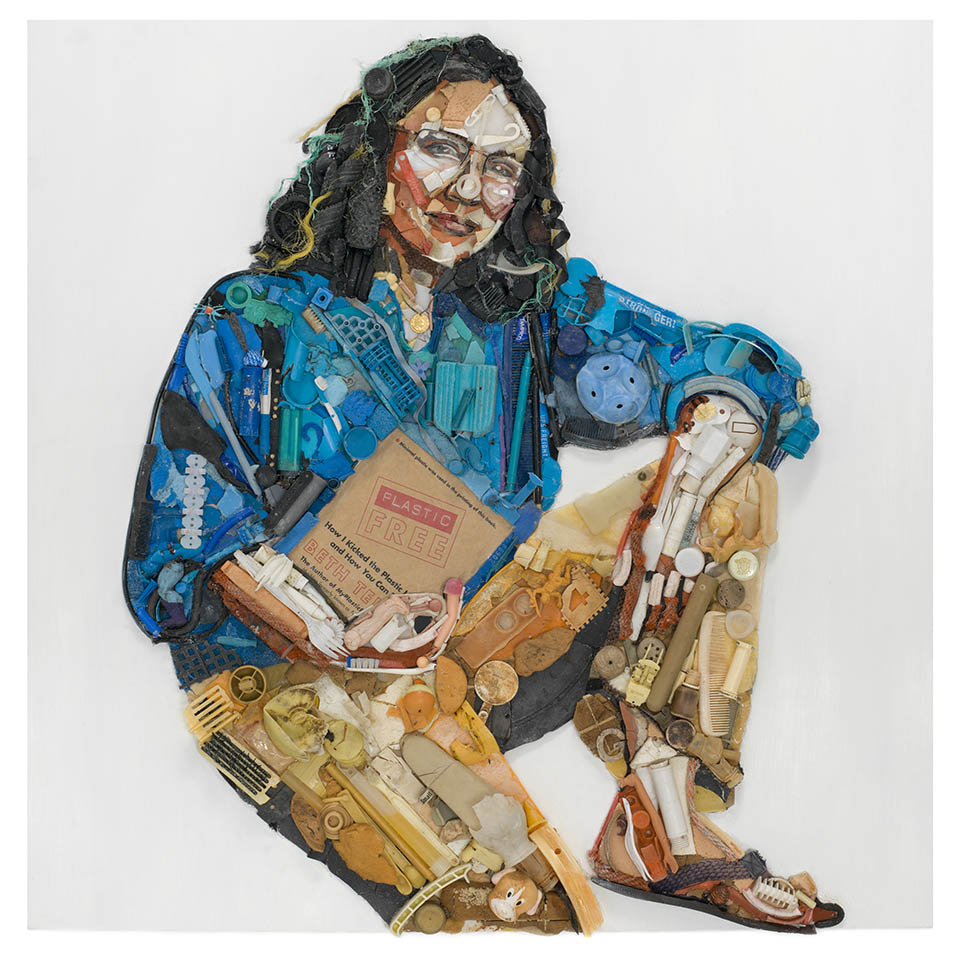 Beth Terry
Tess Felix, 2013
Beach plastic debris, oils on wood
36″w x 36″h x 2″d
Image © 2015, courtesy of the artist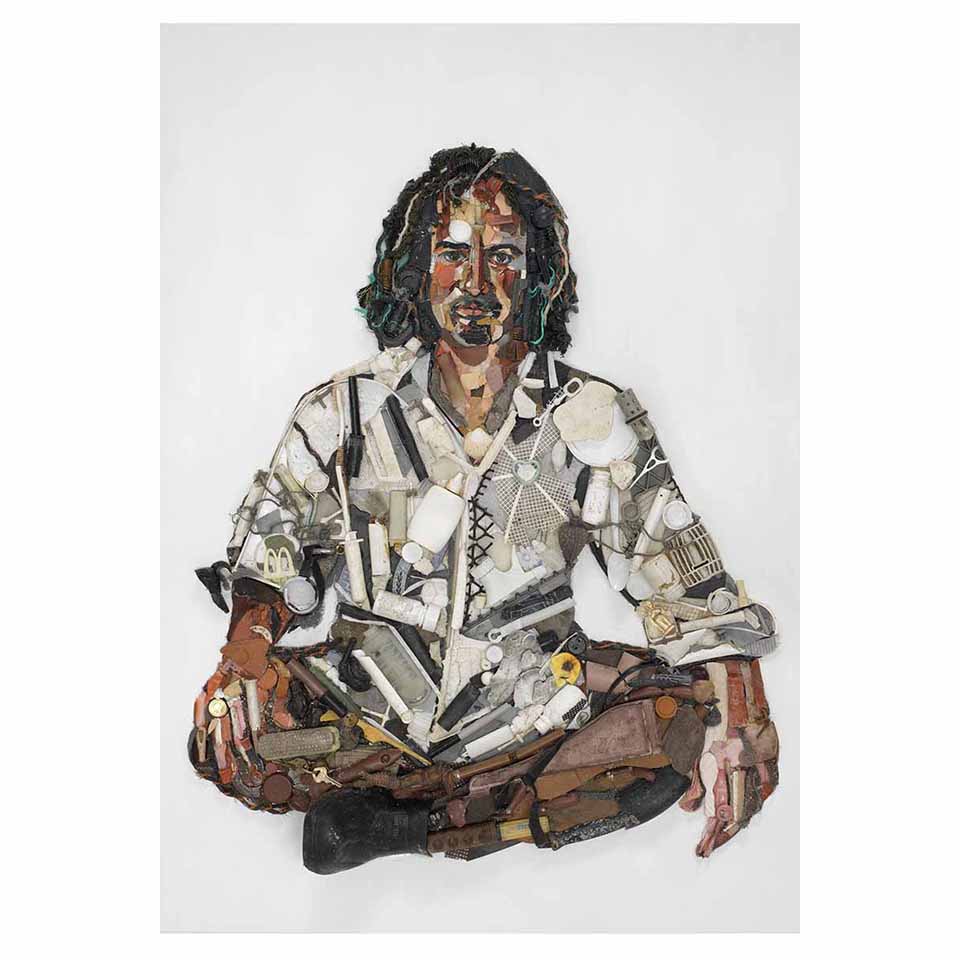 Manuel Maqueda
Tess Felix, 2013
Beach plastic debris, oils on wood
48″w x 36″h x 2″d
Image © 2015, courtesy of the artist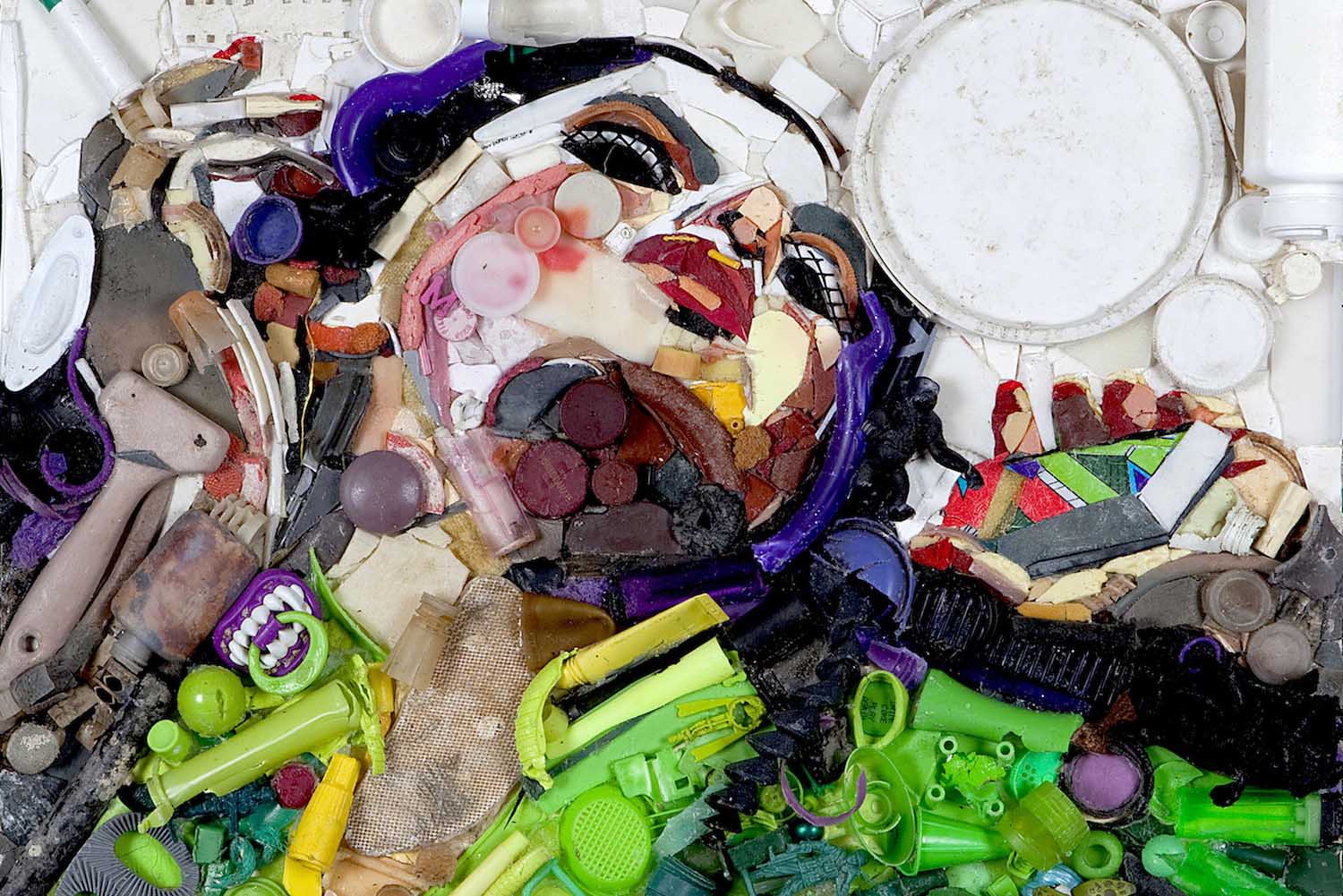 I Want It Now
Tess Felix, 2012
Beach plastic debris on sheet metal, 24″w x 24″h x 2″d
Image © 2015, courtesy of the artist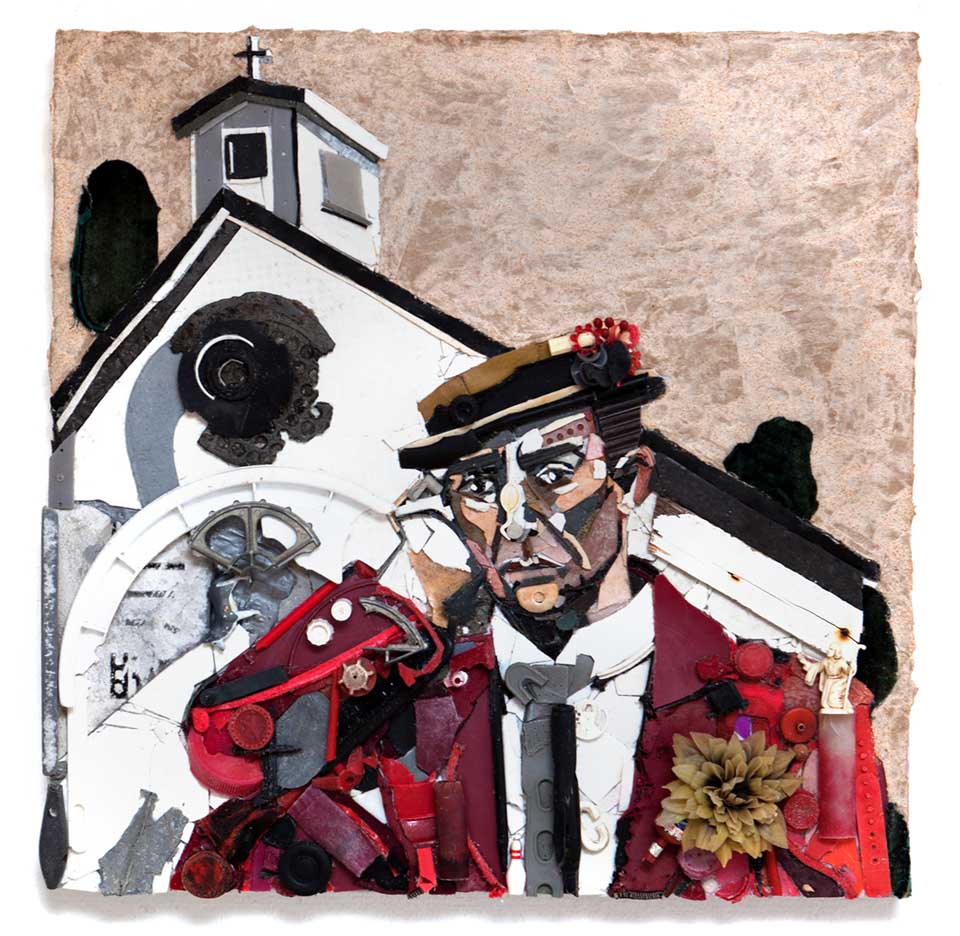 Gospel Flats
Tess Felix, 2011
Beach plastic debris and paper mache on canvas
25″w x 25″h x 3″d
Image © 2015, courtesy of the artist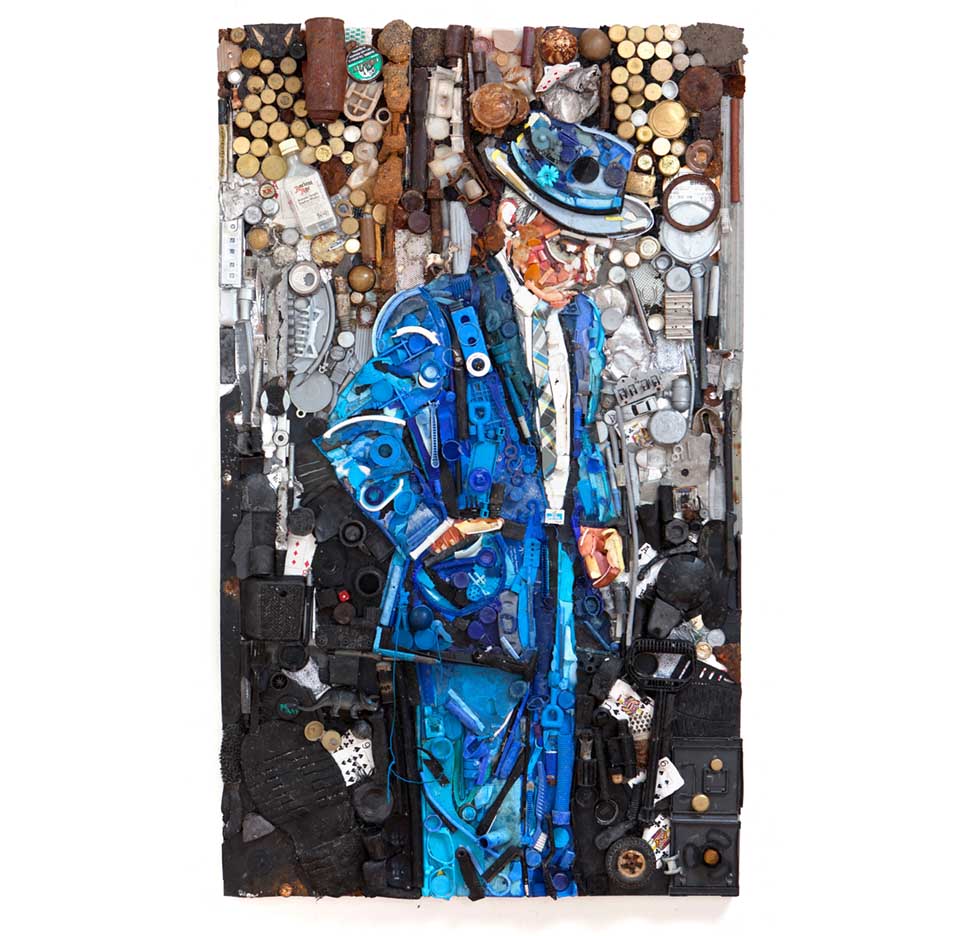 Mr. Lucky
Tess Felix, 2012
Beach plastic debris on wood
60″w x 36″h x 3″d
Image © 2015, courtesy of the artist
About the Artist
Tess Felix transforms plastic debris into vibrant portraits that tell a story of oceans in peril. In a recent series entitled, "Ocean Eco Heroes," Felix portrays activists whose work is aimed at stemming the tide of plastic waste generation. She depicts Beth Terry, an author and activist whose books and blogs promote plastic-free living and solutions for reducing our plastic footprint. In her portrait of Manuel Maqueda," she depicts an activist who has founded organizations to combat plastic pollution and developed an online media project, entitled "El Plastico Mata," to educate the public about the plastics crisis. She builds up her compositions piece by piece over long periods of time, a fitting process to highlight the daily destruction of our marine environment by a steady stream of plastic bottles, baubles, odds and ends.
In the artist's words:  

"My portraits show a human soul made out of plastic debris.  These figures are a playful response to a serious issue: the perilous state of the ocean and our marine life.   While I admire activists and leaders who address the problem, my own voice is that of an artist.   The contrast between the humanity of the figures and the plastic materials they are made of suggests that we are part of and responsible for the problem we have created.

I use waste materials that wash up on the beach to create mosaic portraits of people.  Often, these items are curious remnants of our daily life, like parts of cell phones, discarded plugs, dental pics, bottle caps, fishing gear, old batteries, hairbrushes, and the surprisingly frequent plastic tubes and nets from oyster farming.

My larger works include thousands of such pieces, layered and pasted to the canvas with silicon glue.  The process takes a long time, sometimes months.  I never paint any of the plastic bits and pieces I find, but leave them in their "natural" state.   I created one of my early works, "An Ocean In Crisis," after a large Winter storm left so much plastic debris on the beach that it was like a colored carpet at my feet.

A recent series, "Ocean Eco Heroes," celebrates people who are champions of the environment. Even though they are encased in plastic debris, a serious purpose still shines through their eyes."
From Global Footprint Network:

Where do you fit into the picture? If you are what you eat, as one saying goes, maybe you are also the trash you throw out, as may be suggested by an interpretation of this portrait created from beach trash.

From Earth Day Network:

In the following excerpt from our blog, we discuss the troubling environmental impact of microbeads, which are plastic-based materials in cleansers, soaps and other skin-care products.  You can view the full blog post here.

Microbeads are the newest trend, filling bottles of cleansers and soaps. Skincare products, especially skin exfoliants, are filled with them, but the real problem is that our oceans are filled with them too.
Even though these plastic beads are tiny, they create a huge environmental problem. These beads are so small that they pass through wastewater treatment plants and go straight into the nearest body of water. Then the microbeads are consumed by fish because they resemble fish eggs. However, the biggest issue is that the plastic picks up any toxins that it comes into contact with. As such, the fish in our ecosystem are eating plastics filled with toxins as a result of the skincare products that we choose to buy.

Fortunately, there are alternatives. One example is Lush, an organization focused on selling handmade bath products with fresh and honest ingredients, which has come out with their own informative campaign cleverly entitled "You won't miss a bead." The organization has demonstrated the negative effects of microbeads and provided examples of environmentally friendly exfoliants such as sugar, ground almonds, and sand. The organization uses these natural exfoliants in their own products and they also advocate for consumers to avoid plastic based exfoliants.
Reserved for art-interpretive content.
Featured Actions:  

* Calculate your own Ecological Footprint with Global Footprint Network's online calculator and see what you can do to reduce it

* Bring a reusable cup for your morning coffee or tea

* Avoid products that have microbeads.

* Your pledge will be counted in Earth Day Network's "A Billion Acts of Green" campaign.  Learn more about this campaign here.
Tess Felix celebrates the work of author and activist Beth Terry in her "Ocean Eco Heroes" series.  Beth Terry has created an online resource center and blog for plastic-free living.  Look through the posts on Beth Terry's website to learn how you can eliminate plastics from your life.  How can we encourage more people to take ownership of the plastics problem and become part of the solution?