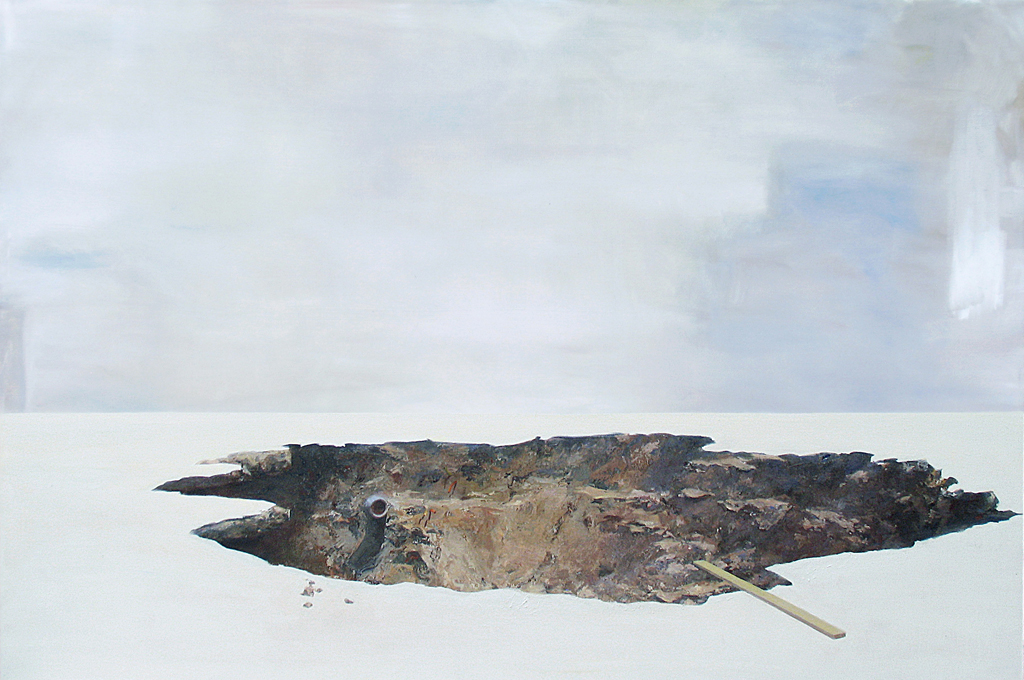 Sinkhole
Kevin Bell, 2014
Oil on canvas, 60″ x 45″
Image © 2015, courtesy of the artist
Mountain
Kevin Bell, 2014
Oil on canvas, 45″ x 26″
Image © 2014, courtesy of the artist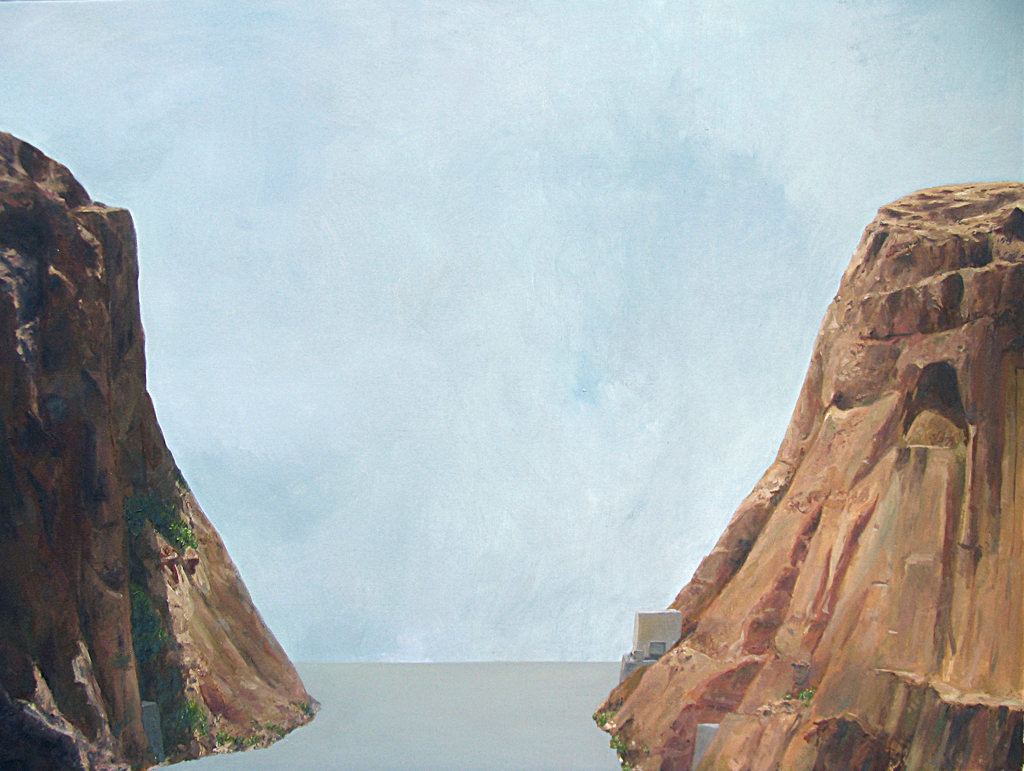 Glen Canyon Dam
Kevin Bell, 2014
Oil on canvas, 60″ x 45″
Image © 2015, courtesy of the artist
About the Artist
Kevin Bell depicts human interruptions of the landscape in his skillful oil paintings. He paints excavations, sinkholes, dams and other transformations of the natural environment. He allows us to picture the landscape in its pristine state by rendering the natural elements and manmade incursions in contrasting styles. Bell invites us to study these altered landscapes, and to ask ourselves, "Was it worth it?"
In the artist's words:  

Glen Canyon Dam, 2014 (above): "Often we become enamored with human intrusions into the landscape.  My aim is to refocus on the natural elements which remain, and imagine what the land would look like without defining human activity."

Sinkhole, 2014 (above): "Sinkholes have become an increasingly prevalent feature of our landscape.  Often the result of human activity, from fracking to pumping of groundwater, they occur without warning.  I wanted the sinkhole to also appear as an unexpected occurrence in an otherwise placid painting."

Dimensional paintings:

Kevin Bell also explores human interventions into the landscape through dimensional paintings on wood box panels.

Cutbank, 2014 , Oil on wood box panel, 12″ x 12″ x 8″ "
Reserved for future educational content.
In Kevin Bell's landscape paintings, he portrays the heavy hand of humans transforming the landscape to their needs.  We see a similar message in Eric Brennan's work.  By comparison, Mary Mattingly shows the possibility of a lighter human footprint with her wearable architecture, part of her series entitled, "Nomadographies."  Look for Mattingly's work in Part II of the exhibition.

Elysian Fields, by Mary Mattingly © 2007, courtesy of the artist and Robert Mann Gallery
Featured Actions:

* Use sustainable building products!

* Your pledge will be counted in Earth Day Network's "A Billion Acts of Green" campaign.  Learn more about this campaign here.
Reserved for future conversations.