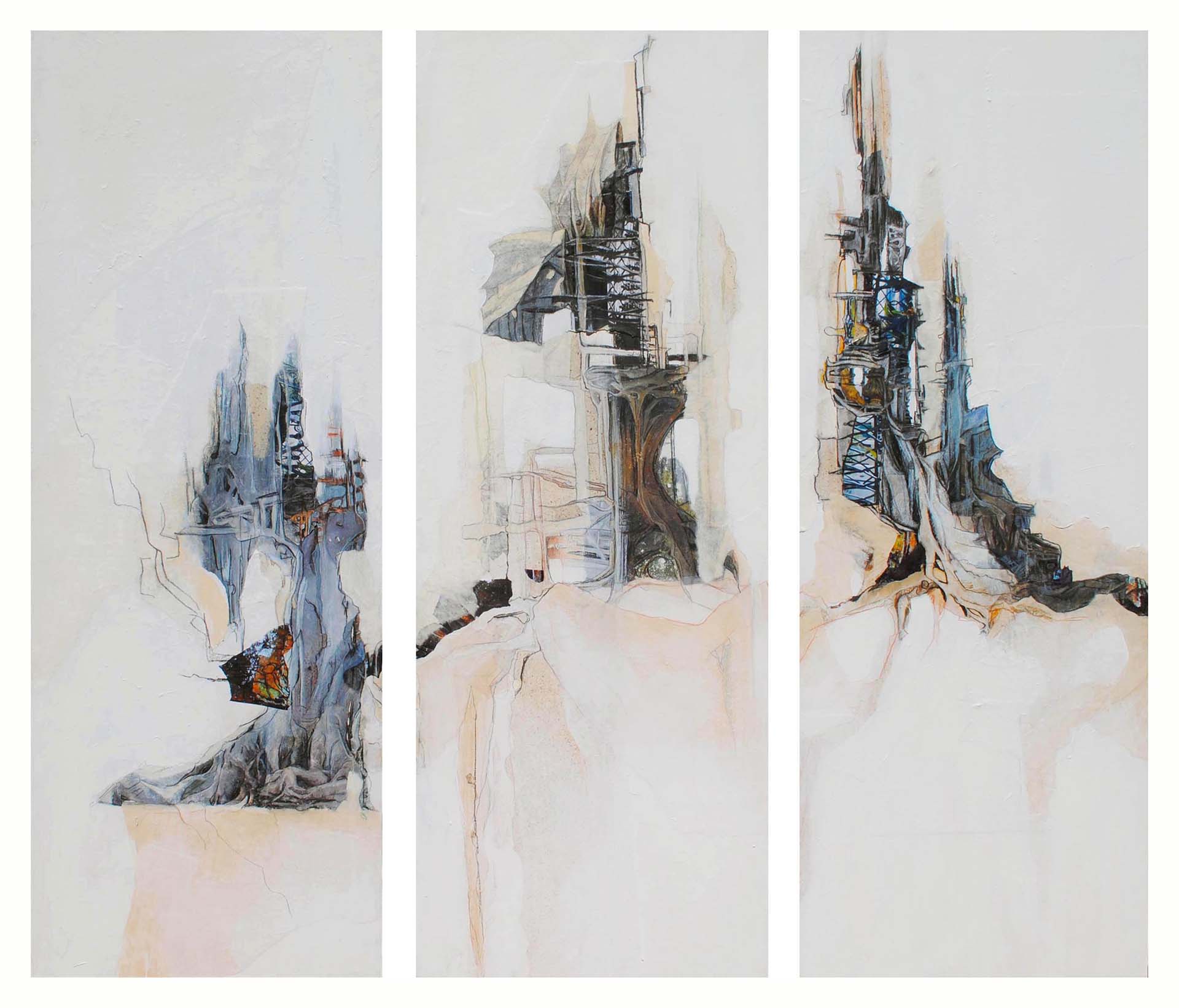 A Forest: Listening
Jennifer Gunlock, 2011
Mixed media collage and drawing on three wood planks, 47.5″ x 52″
Image © 2015, courtesy of the artist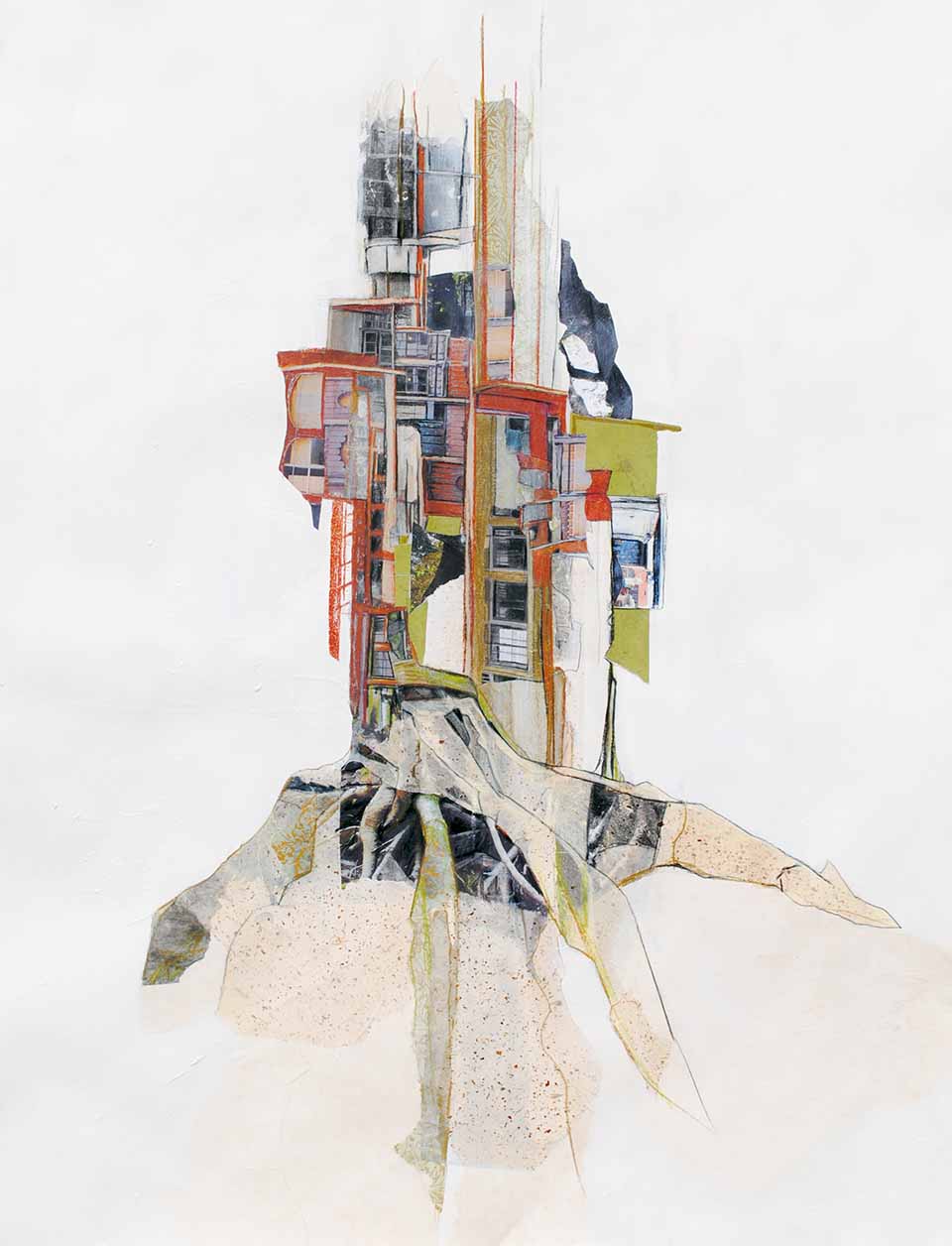 Population Density Core
Jennifer Gunlock, 2014
Mixed media collage and drawing on Stonehenge paper, 50″ x 38″
Image © 2015, courtesy of the artist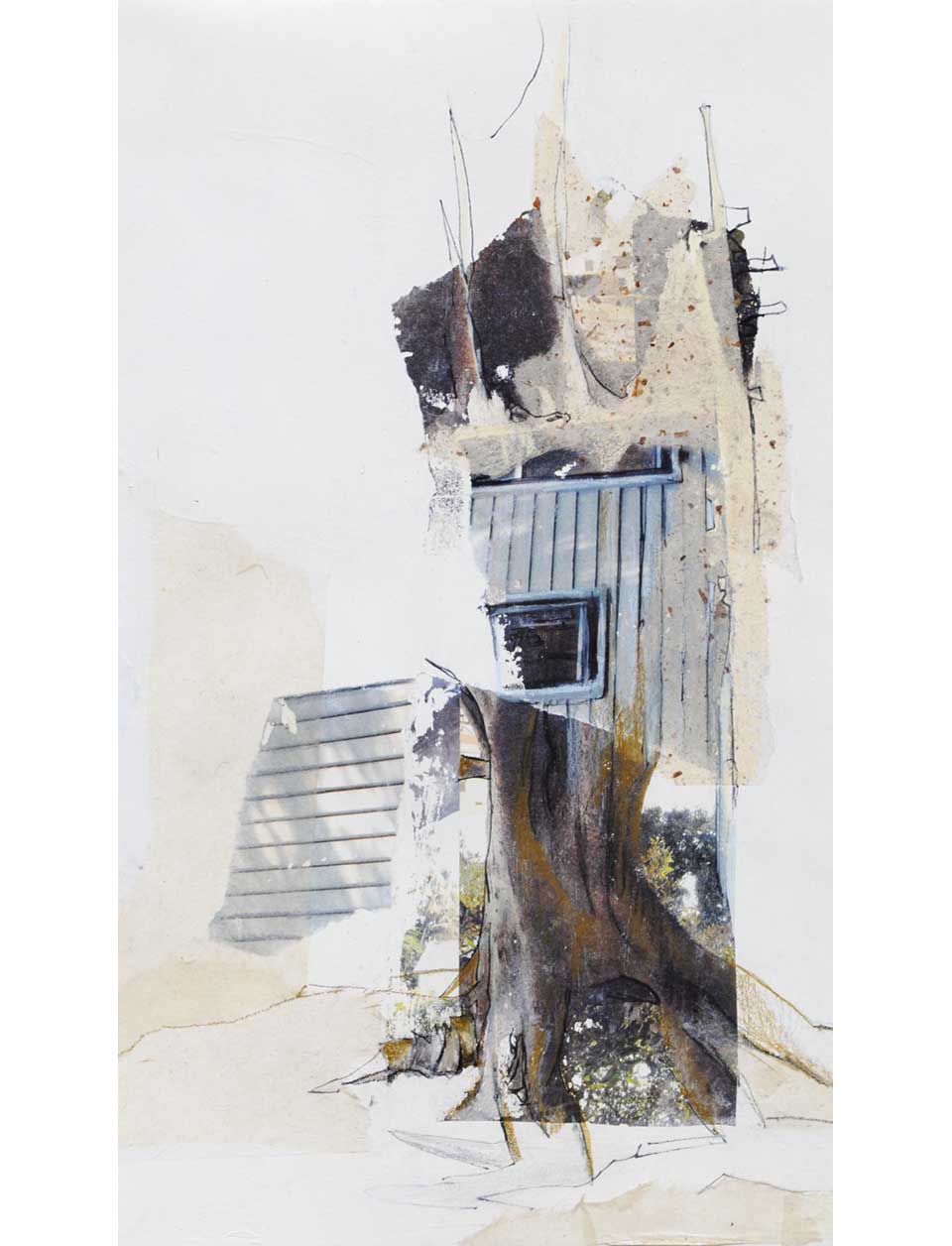 Controlled Burn
Jennifer Gunlock, 2013
Mixed media collageand drawing on Stonehenge paper, 15″ x 9″
Image © 2015, courtesy of the artist
About the Artist
In her mixed media collages, Jennifer Gunlock explores the restless intersection of nature and the built environment. She depicts trees with rugged branches and burly roots wrangling with residential facades, windows, gates and other architectural features. Gunlock captures a fleeting moment in this struggle, one in which nature and architecture seem to co-exist in a colorful equilibrium, if only for a moment. Gunlock alludes to historical patterns of overshoot, which are marked by excessive demand for natural resources, followed by eras of human decline and the slow recovery of forests and ecosystems. But in these works, Gunlock offers a vision of a hopeful future in which the built environment is woven sustainably into the natural world.
In the artist's words:  

"My work demonstrates a fascination with the relationships between things of nature and those of human imposition.  With the layering of photographic imagery I have collected on my travels, I construct tree-based figures whose bodies are awkwardly fused with metal gates, antennas, and other architectural motifs. This Frankensteinian fusion forces the two elements to co-exist in a push-pull dynamic, each warring for dominance.  Each of these tree-forms is an ancient, sentient thing whose lifespan evokes the rise and fall of civilizations and the forests they occupied.  A people enters a forest, clears it, and builds upon it.  The village grows into a mighty city, perhaps an empire, and eventually, inevitably, the people abandons its city, and the civilization dies.  As their great monuments crumble into ruin, the forest slowly encroaches and reclaims its right for dominance.  The ancient trees and ruin bump up and press against each other, causing tension and ultimately fusion.  The result is a forest of hybrid beings comprised of metal, stone and branch."
From Global Footprint Network:

With Earth Overshoot Day on August 13, 2015, humanity has used up nature's budget for the entire year in less than eight months, with carbon sequestration making up more than half of the demand on nature.  In depicting the architectural structure of trees, this artwork also underscores the tension between the built environment and the natural world. Similarly, Ecological Footprint accounting tracks the competing demands on our planet's surfaces, including the built-up environment competing with forests, cropland and grazing lands.

From Earth Day Network:

In the following excerpt from our blog, we describe the crucial role of forests in our lives.

With over 300 million people worldwide living near forests and 1.6 billion depending on their products for daily basic needs, forests remain an essential factor to our socio-economic system. The USDA Forest Services reported in 2013, that about 1.7 million people were directly employed in the planting, growing or management of forests. Forest products also sustain our economy by offering us ecosystem services for shelters and heating system; while providing a rich variety plants often used as medicinal remedies.

Forests are a lot more than just collections of trees — they are the essence of our lives. They protect us as we grow, clean the air we breathe, purify the water we drink and provide us with food and health we need. Forests are also the primary habitat for billions of plants and animals. But for many years, we have failed to ensure their proper growth.

Our forests are one of our most powerful tools in the battle against climate change. They assist us in the reduction and stabilization of atmospheric/terrestrial greenhouse gases and provide us with alternative sources of energy. Moreover, the ongoing efforts of maintaining sustainable forest management have been proven to enhance the success of global environmental agreements.
Jennifer Gunlock's works evoke the tense relationship between trees and the built environment, but also hint at the possibility of a favorable union.  Compare the Fab Tree Hab project, in which Mitchell Joachim and fellow architects envision a living graft prefab house where the tree and house coexist in a mutually-supportive structure.  Stay tuned for more of Mitchell Joachim's projects in Part II of the exhibition.

Fab Tree Hab, Mitchell Joachim, Lara Greden and Javier Arbona.
Featured Actions:

* Cut off junk mail!  Stop paper statements from banks and other companies.  To increase your impact, put a stop to telephone book delivery.

* Stop using virgin paper!  Use recycled paper instead.  Better yet, reuse the blank side of junk mail and think before you print!

* Your pledge will be counted in Earth Day Network's "A Billion Acts of Green" campaign.  Learn more about this campaign here.
Reserved for future conversations.