Survival Architecture and the Art of Resilience
Section Two: PORTABLE
To be useful in emergency situations, survival architecture must be nomadic, capable of being easily transported or conveyed by individuals and families. In some cases, they will be made using materials indigenous to the community or region where they are to be built.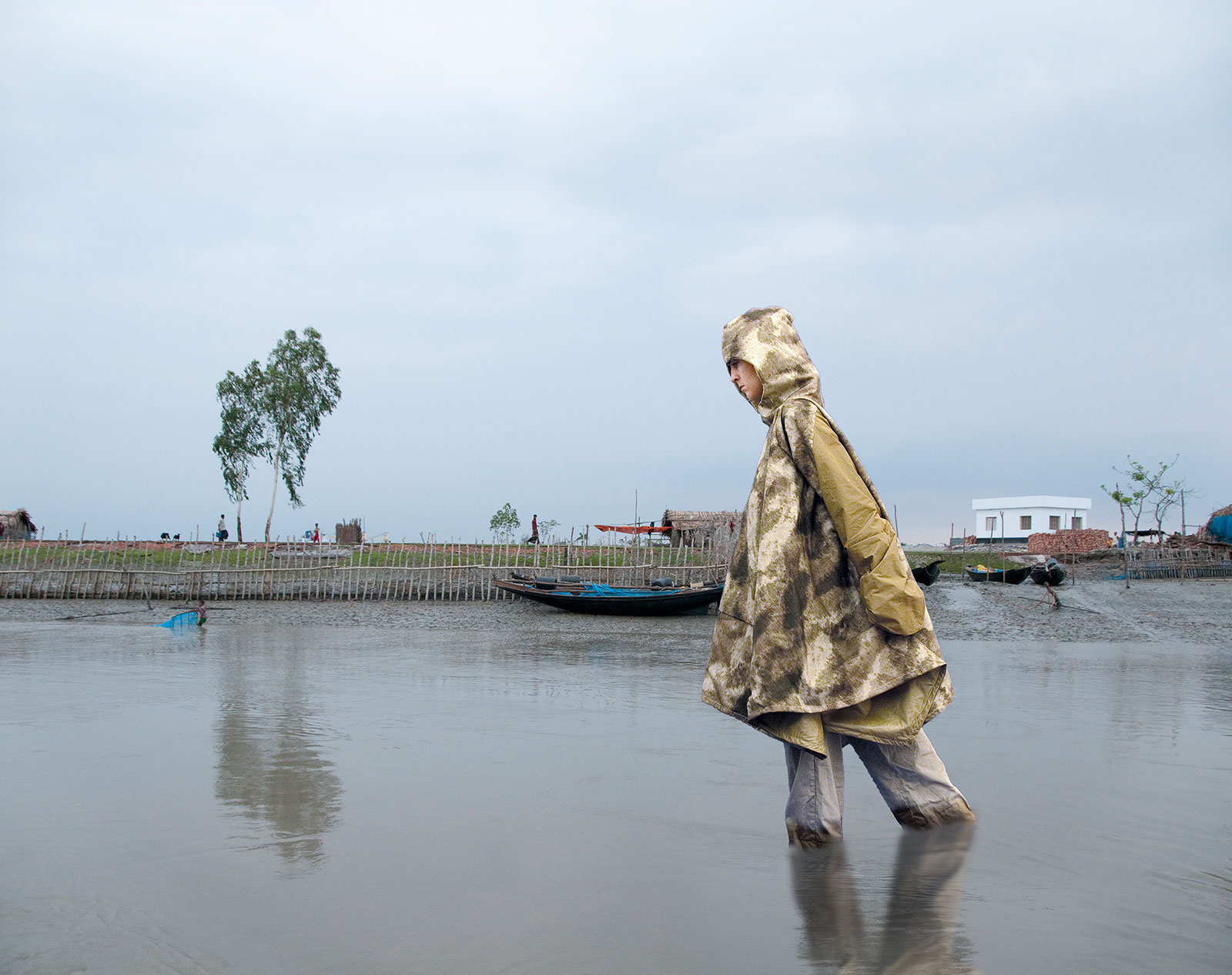 Heading West
Mary Mattingly, 2011, photography, 24 x 30 inches, © 2011, courtesy of Mary Mattingly
Mary Mattingly explores issues of sustainability, climate change, and displacement, transforming ecosystems into poetic visions of adaptation and survival. In her work, we encounter nomads laboring under the weight of their possessions. We witness their pilgrimage over parched lands and swollen bodies of water in search of a sustainable future in the natural world.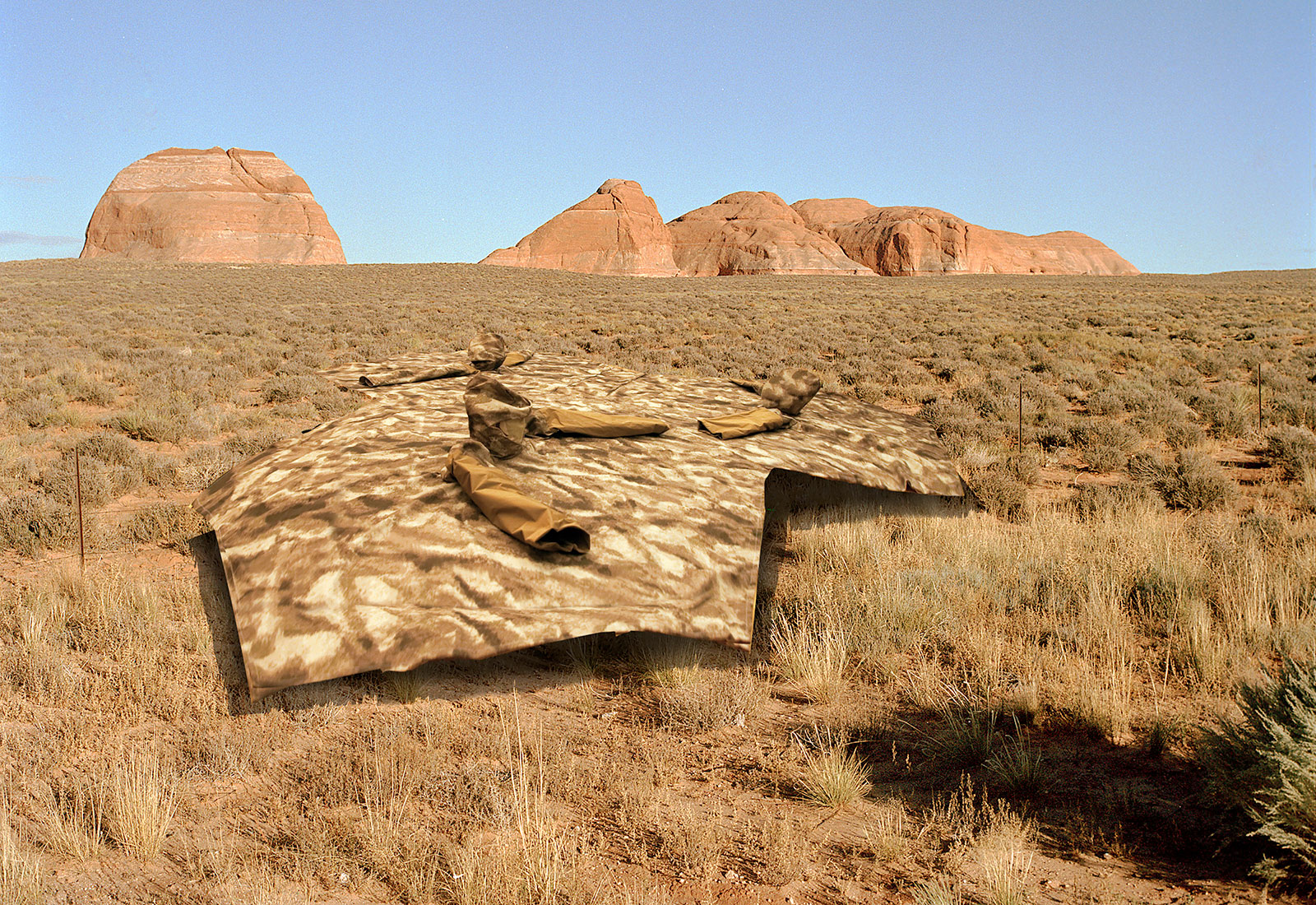 Desert Deployment 2
Mary Mattingly, 2011, photography, 24 x 30 inches, © 2011, courtesy of Mary Mattingly
Mattingly offers specific solutions and architectural prototypes that we can build upon in our pursuit of a better life. Her work inspires hope that we can prepare for a changing world through innovative design and a restorative relationship with nature.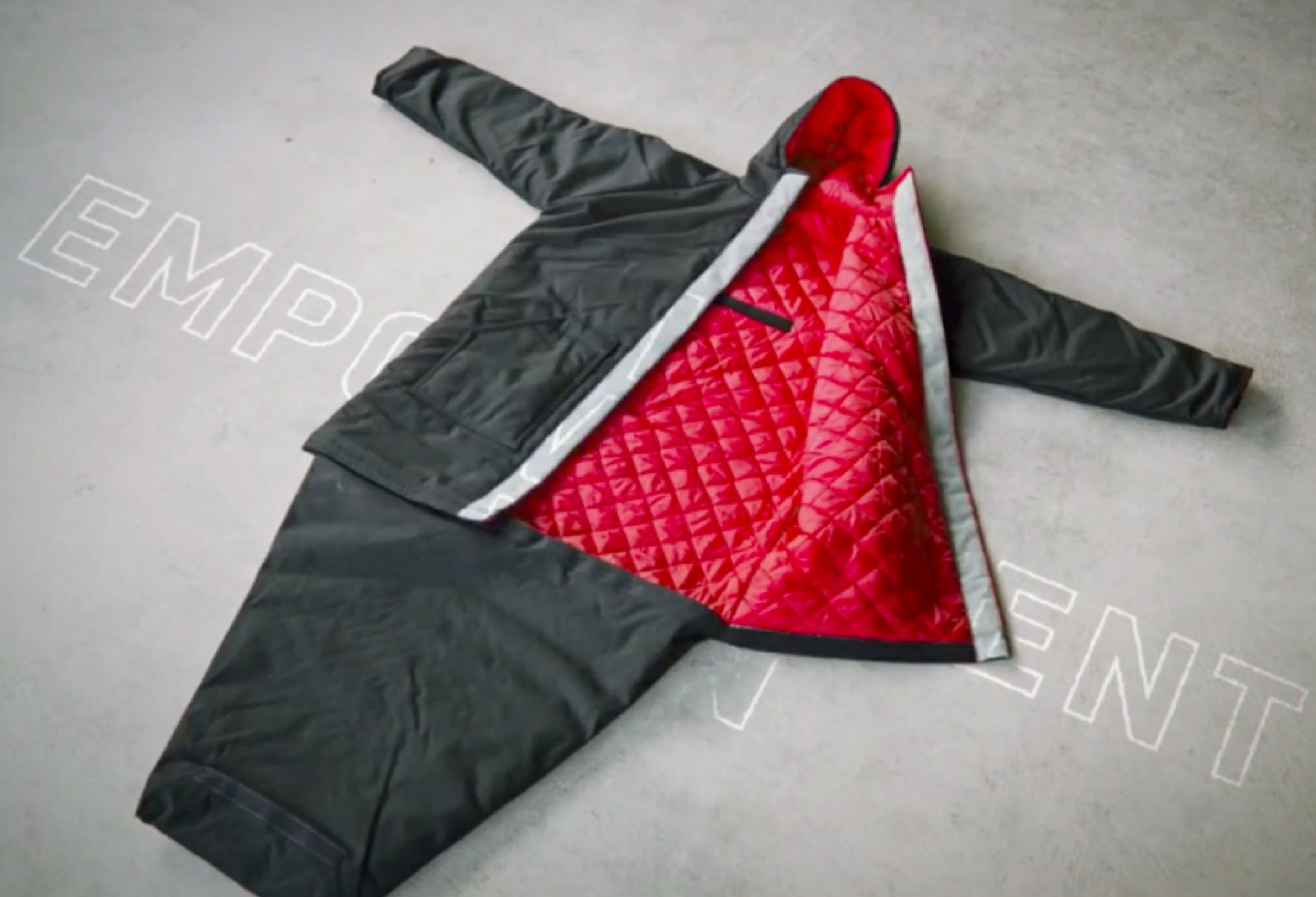 EMPWER Coat
The Empowerment Plan, 2015, water-resistant, self-heating, up-cycled automotive materials, 8 x 6 x 5 feet, © 2015, courtesy of The Empowerment Plan
The Empowerment Plan is a Detroit-based nonprofit organization dedicated to serving the homeless community. Homeless parents from local shelters are trained to manufacture coats that transform into sleeping bags, thereby helping to break the cycle of poverty by earning a stable income.
The Empowerment Plan can produce 1,000 coats on a budget of $100,000. Research has shown that every 1,000 coats distributed saves 14 lives and reduces healthcare costs by $58,800 annually. Also, each recipient of an EMPWR coat will make on average one less emergency room visit per year due to hypothermia. The coats are given away and become a form of nomadic housing, providing warmth and shelter that travels with the wearer day and night.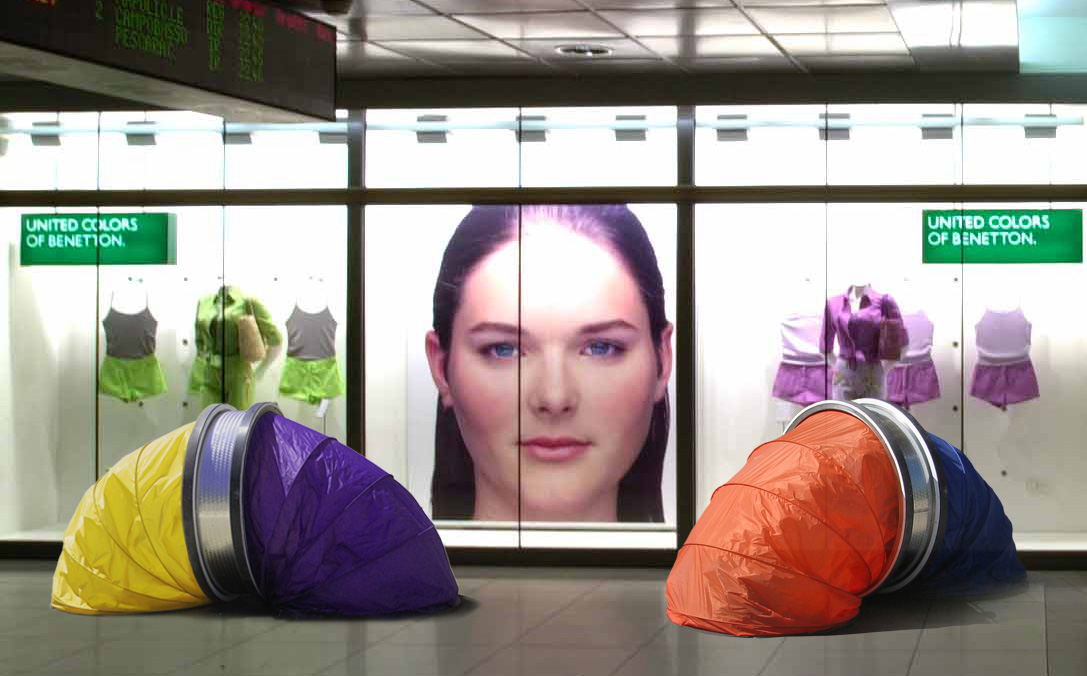 WheelLy
ZO-loft Architecture and Design, 2009, ink-jet print of drawings, 17 x 22 inches, © 2009, courtesy of ZO-loft Architecture and Design

Designed as a portable storage and expandable tent for the homeless and displaced, by the Italian ZO-loft Architecture and Design, the WheelLY is comprised of a rolling aluminum frame with two expandable polyester resin tents, all made from recyclable and recycled materials. During the day, the WheelLY can be rolled around the city and pushed by its aluminum handle, and can hold up to 250 pounds of personal items. The sides are made of neoprene to provide warmth and insulation when the shelter is expanded into two tents. Zoom into the image to view configuration details and additional views.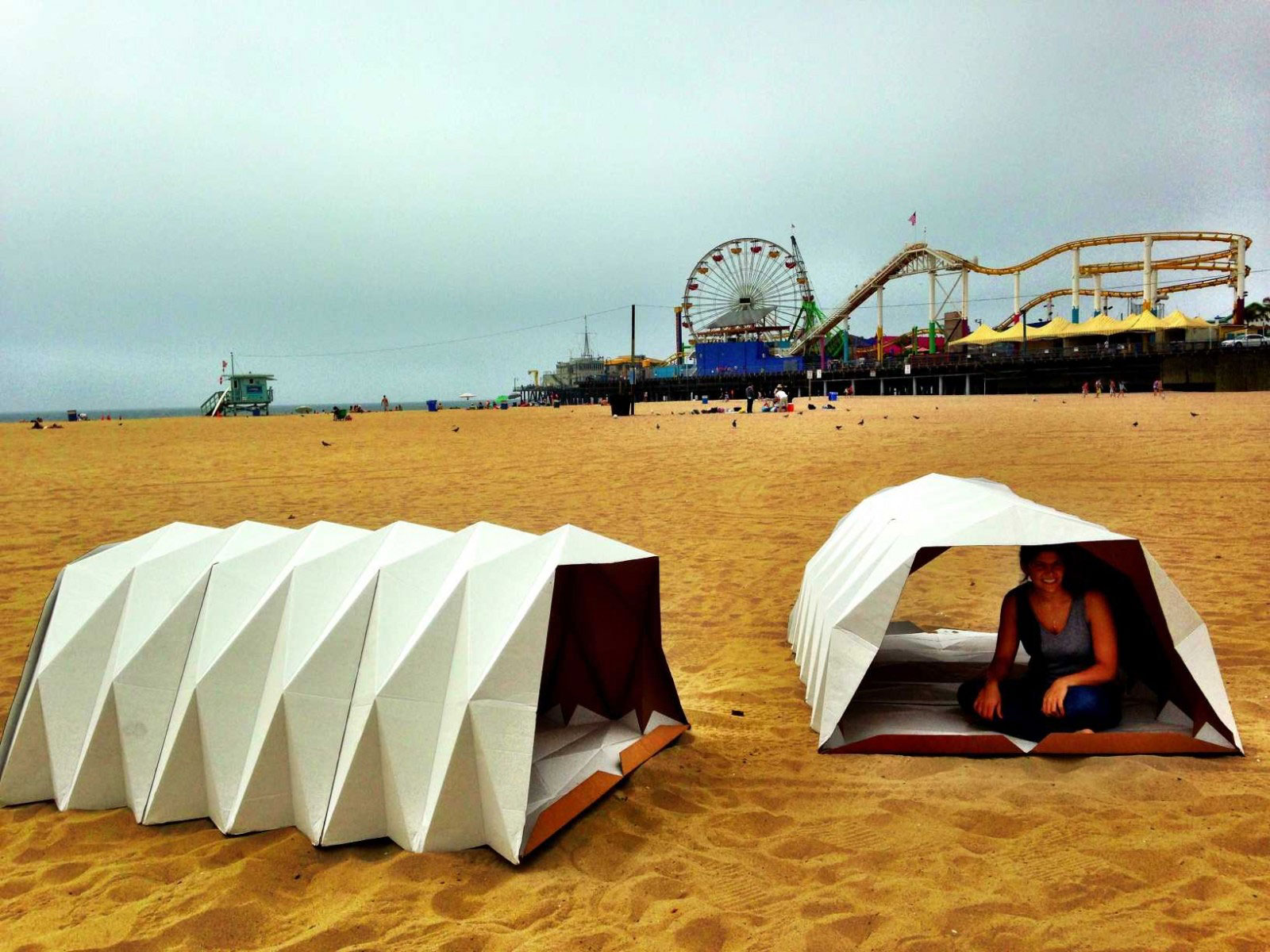 Cardborigami
Tina Hovsepian, 2016, folded cardboard, (2) 48 x 28 x 72 inches, © 2016, courtesy of Tina Hovsepian
Inexpensive, lightweight, sustainable, and naturally insulated, Cardborigami shelter is constructed from recycled cardboard. The shelter is big enough for two people to sleep and can fold small enough to carry. Tina Hovsepian, the designer of this solution, is developing a 4-step path out of homelessness using the Cardborigami shelter. This program relies heavily on partnership and collaboration with other homeless aid organizations over a 12-month period. The steps include:
Step 1 is to provide participants with immediate shelter and privacy with ownership of a Cardborigami that will be used and stored within a partnering organization's facility in a safe environment.
Step 2 is to provide connections to services and tools to re-integrate participants into society.
Step 3 is to get participants into permanent housing.
Step 4 is to help individuals sustain housing through job placement or entrepreneurial opportunities.