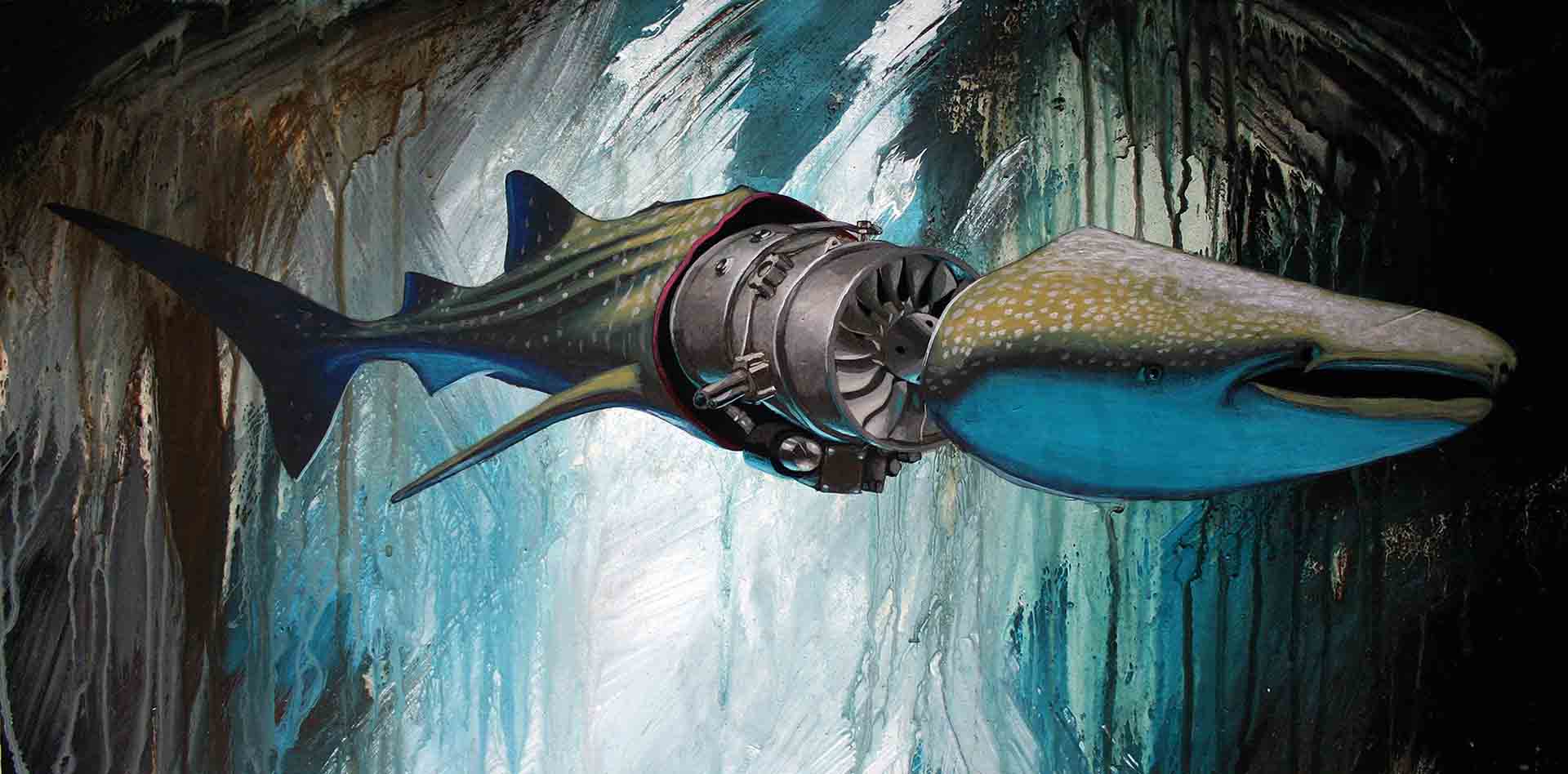 Whale Shark
Robert Bowen, 2015
Acrylic on panel, 12″ x 24″
Image © 2015, courtesy of the artist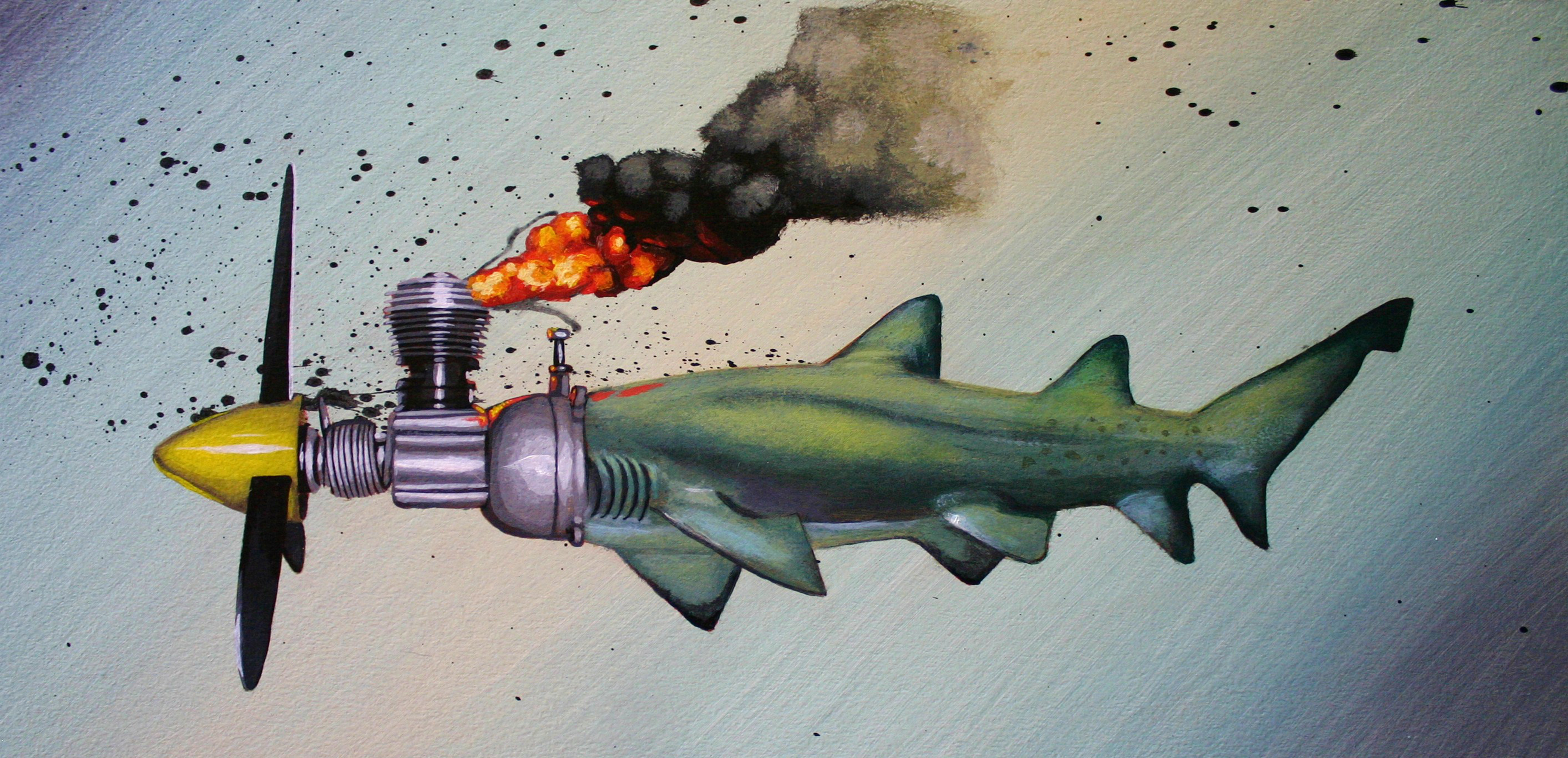 Reef Baby
Robert Bowen, 2013
Acrylic on panel, 8″ x 16″
Image © 2015, courtesy of the artist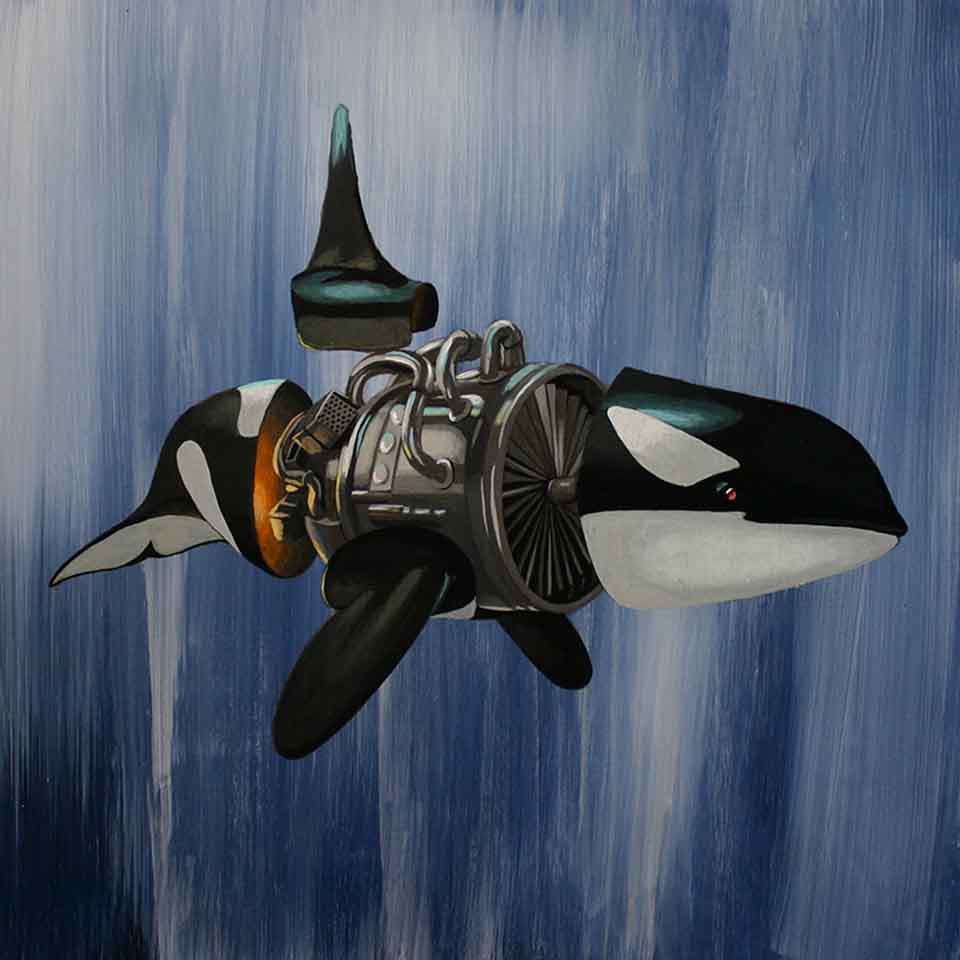 Orcinus Orca
Robert Bowen, 2014
Acrylic on canvas, 12″ x 12″
Image © 2015, courtesy of the artist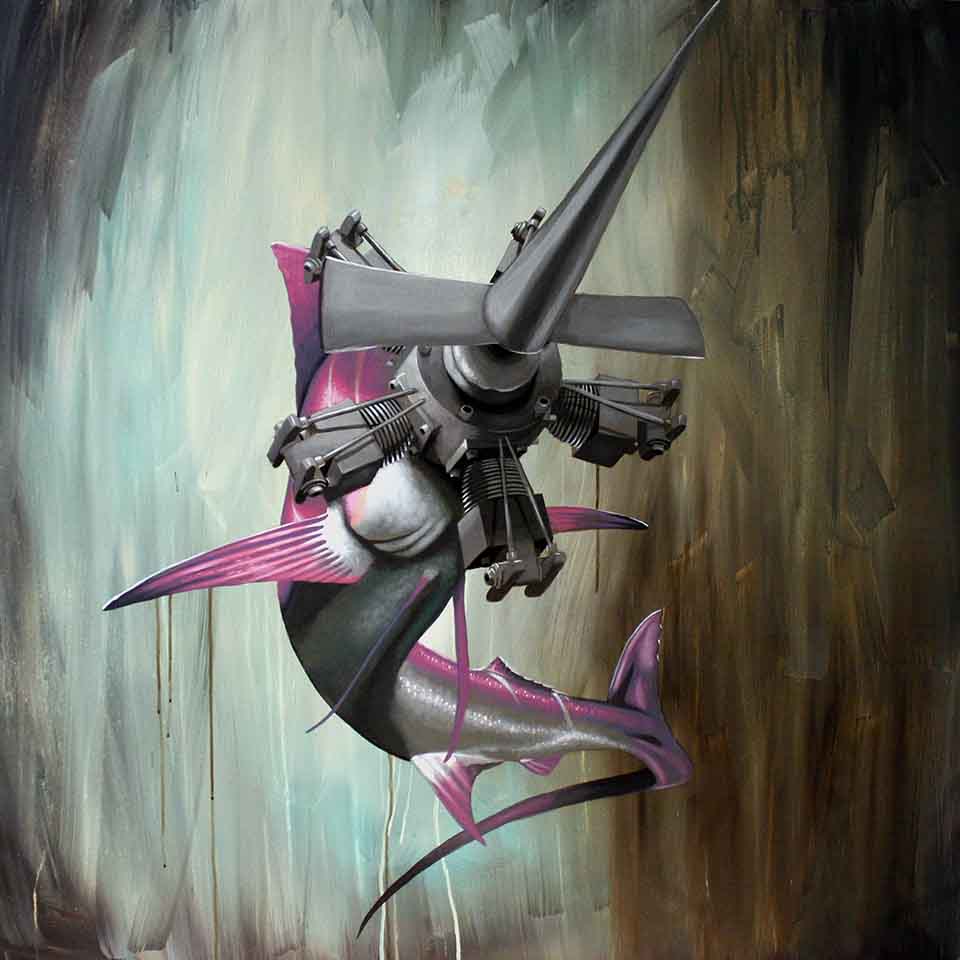 High & Dry
Robert Bowen, 2014
Acrylic on canvas, 48″ x 48″
Image © 2015, courtesy of the artist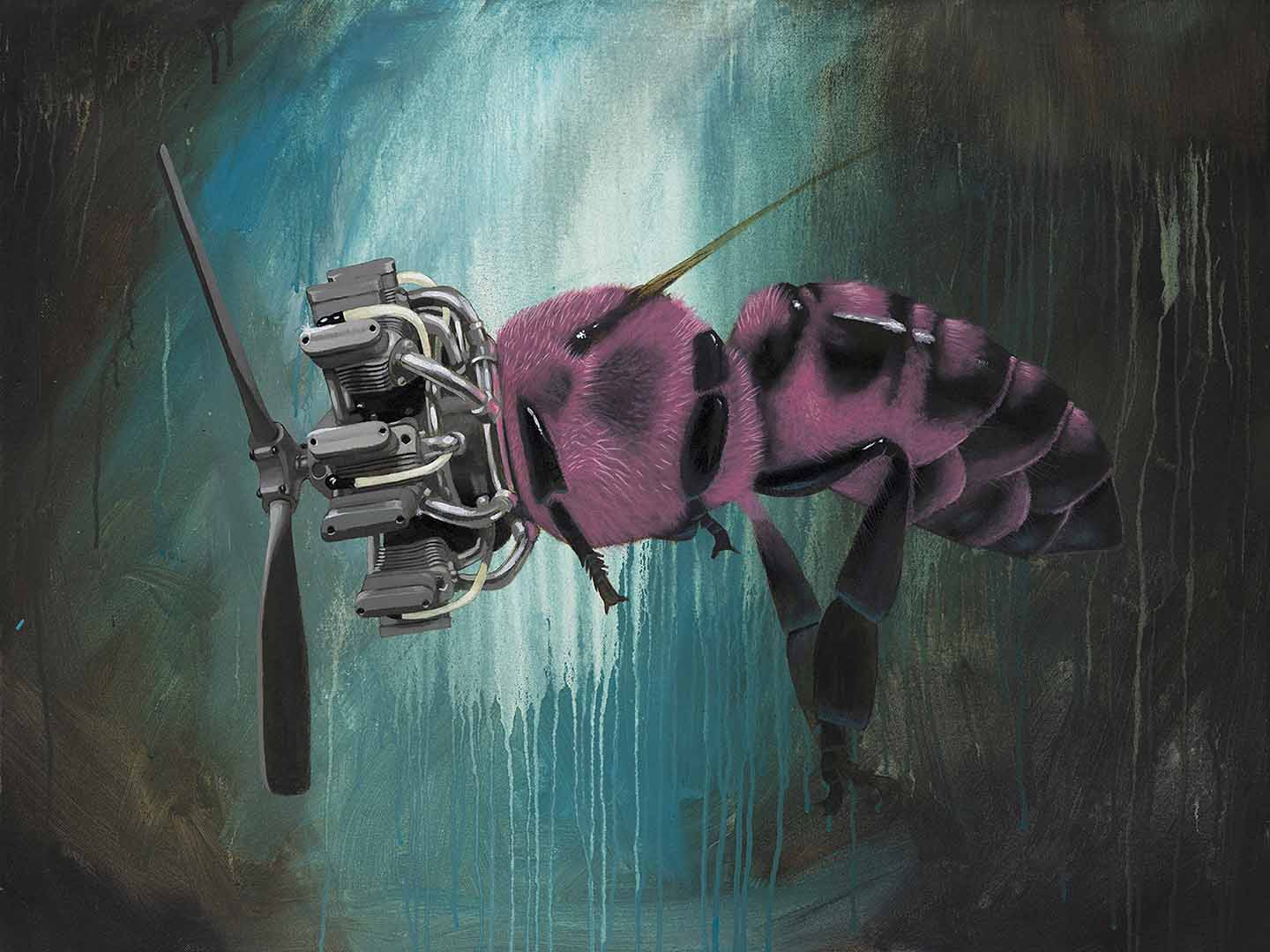 Pink Pollinator
Robert Bowen, 2014
Acrylic on canvas, 30″ x 40″
Image © 2015, courtesy of the artist
About the Artist
In his dynamic paintings, Robert Bowen invites us into the laboratory of a mad scientist. He presents creatures that are part animal and part machine, capturing them in freeze-frame action. He depicts honeybees with motorized heads, sharks with jet-powered propellers and whales with turbine-engine cores. Bowen offers few clues into the origin of these hybrid beings, allowing us to speculate about humanity's role in their creation. Are these creatures the byproduct of genetic tinkering, symbols of misguided efforts to improve upon nature? Are they an attempt at empowering Earth's creatures to defend themselves against the threats of human growth? Or are they the technologies of last resort, replacing elements of the ecosystem, like pollinators and ocean predators, that are disappearing at an alarming rate?
In the artist's words:  

"With this current body of work, I am continuing to focus on my fascination with animal/machinery hybrids. There are so many unanswered questions I have about them. Is this a not-so-distant future reality? A terrible road we should never go down? How do I make the Killer Whale a more efficient killer? Can the marlin and shark be even faster hunters, more dangerous to their only predators, man? If the bees continue to disappear, should we design a replacement to pick up where they left off? Or do we accept our fate and stop toying with Mother Nature since that is what got us into trouble in the first place."

More about the artist:  

A visual artist living and working in San Francisco, Robert Bowen has been exhibiting his artwork throughout the US for over ten years. Bowen got his start through graffiti and street art, and went on to attend art school and obtain a classical education as a painter.
From Earth Day Network:

In the following excerpt from our blog, we address the potential to inspire action on climate change through pop culture.  You can view the full blog post here.

Today, environmental advocates are bringing in new voices and new stories to the debate of climate action to answer tough questions on how influential people are using their status to support the environmental movement. Working in collaboration with figures from art, fashion, music, and sport is a creative approach to creating a climate change culture rallying people together on a global scale.  The stars of pop culture inspire have the potential to inspire people to learn more about their community and identify ways they can work together to promote the sustainability. Creating active engagement and positive publicity is an essential part of a cohesive culture on climate change. People in the public eye have extended reach and can rally a variety of supports who might not identify as environmentalists.  For the 45th anniversary this year, Earth Day Network was once again the center of attention to unite people on climate change issues. The Global Citizen 2015 Earth Day Rally on the National Mall in Washington, D.C. rallied citizens together and increased awareness, engagement, and action through the inclusion of climate activists from sports, to art, to music, and beyond. The secret was to use a pragmatic approach, diversifying the environmental movement across society, bringing together people with different backgrounds and interests to a common goal. This new culture will embody a community to develop personal obligations and a strong connection to environmental issues.
Reserved for art-interpretive content.
Explore how robotic fish are being used to detect water pollution here.  Will technology be an asset in our push for sustainability or will it continue to enable the excesses that stress the environment and stretch the Earth's resources?