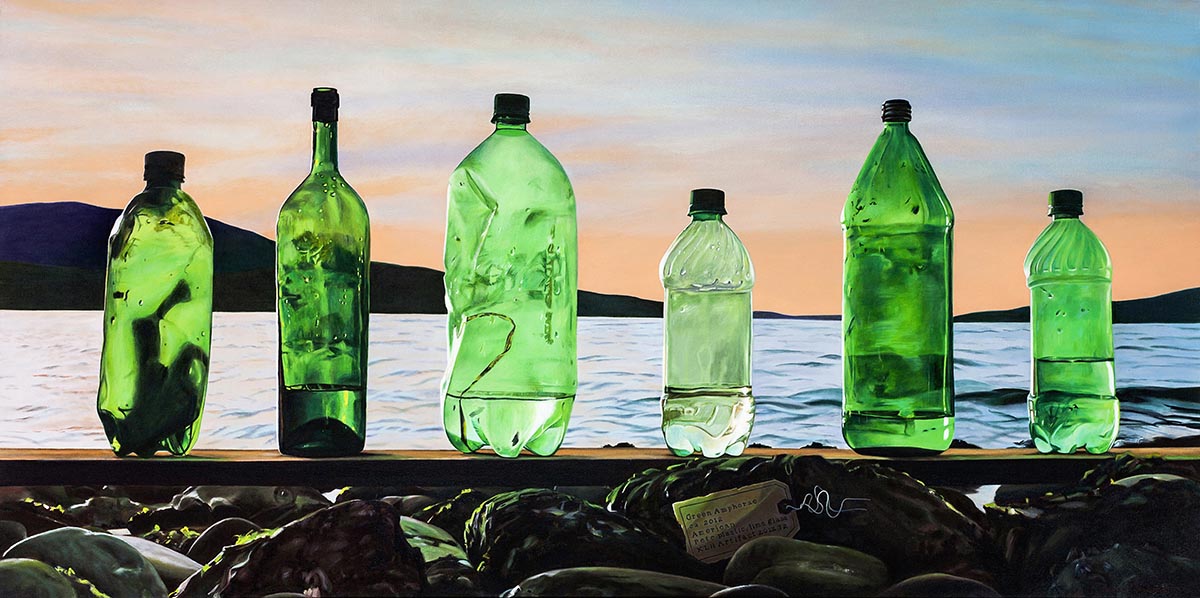 Shades of Green; Amphorae ca. 2012
Karen Hackenberg, 2012
Oil on canvas, 24″ x 48″
Image © 2015, courtesy of the artist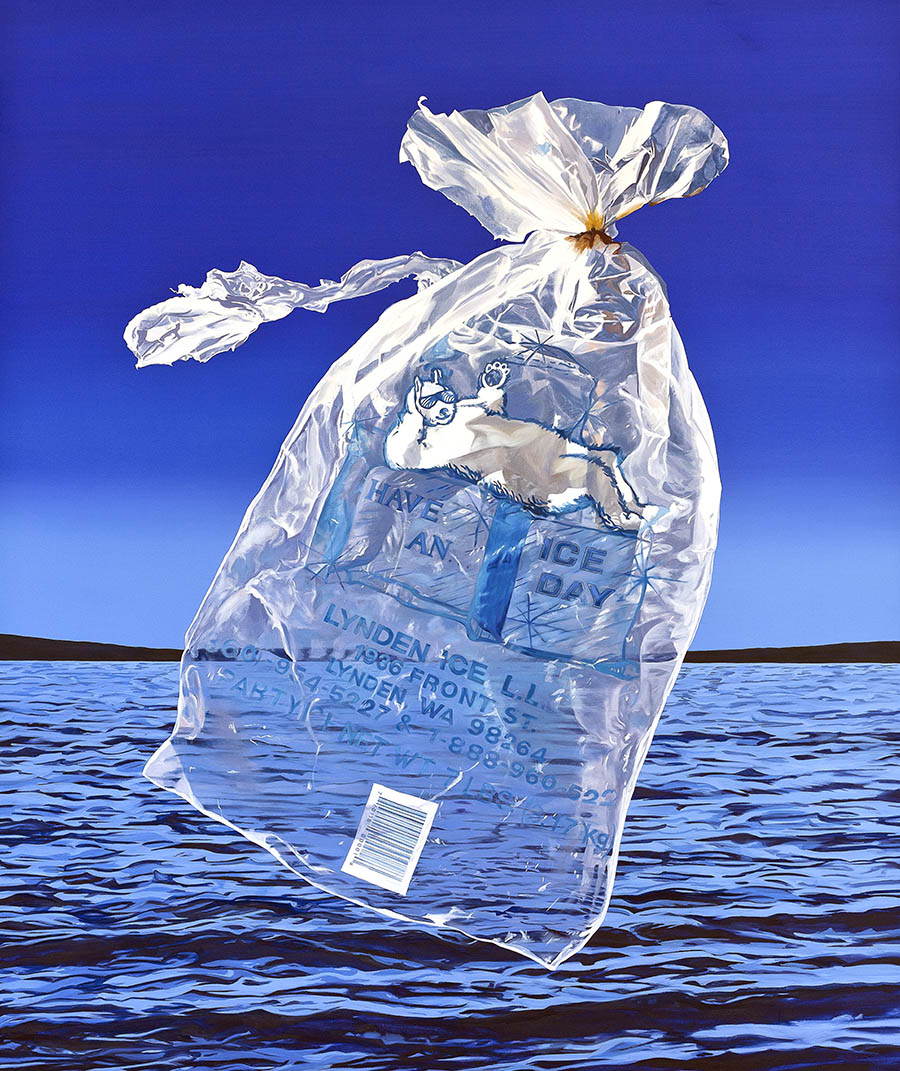 Have an Ice Day
Karen Hackenberg, 2015
Oil on canvas, 72″ x 60″
Image © 2015, courtesy of the artist
Arctic Thirst
Karen Hackenberg, 2014
Gouache on paper, 10.5″ x 14.5″
Image © 2015, courtesy of the artist
About the Artist
In her Watershed series, Karen Hackenberg creates meticulous paintings of post-consumer trash that she finds on the shores, and in the foamy surf, of Discovery Bay, Washington. She gives this detritus an extraordinary amount of her attention, far more, in fact, than the careless shoppers who have introduced it into the ecosystem. She selects items with ironic labels that unwittingly connect our obsession with plastics and packaging to climate change. Hackenberg delivers these punchlines with a deadpan-realist, post-pop style that is very appropriate for our current predicament, which seems both larger than life and stranger than fiction.
In the artist's words:  

"The Watershed paintings are inspired by the incongruity of the man-made detritus found washed up on the otherwise pristine shores near my Discovery Bay WA studio; the plastic shards and PETE water bottles, plastic bags, the mismatched running shoes, the foggy plastic water bottles, the throw-away lighters, the frayed lengths of nylon rope, the spent shotgun shells, to name but a few. I collect this local flotsam as it bobs in on the waves from far and near, and with my ear to the sand for a close view, I pose and photograph it on the beach where it strands. The resulting seascape compositions depict the beach trash as monolithic, thereby providing a visual metaphor for the overwhelming magnitude of the issue of marine debris."

Have an Ice Day, 2015 (above): "My large-scale oil painting, Have an Ice Day (above) depicts a tattered plastic party-ice bag sporting the cartoonish graphic of a polar bear floating in limbo over the sea. The party-ice in this bag has long since vanished, just as the ice cubes illustrated on the bag are melting out from under the sunglass-clad ice-bear as he poignantly waves good-bye; a parting metaphor for the potential of mass extinction in the warming and disappearing habitats of the globe."

Arctic Thirst, 2014 (above): "Rubbermaid and McDonald's objects share a formal relationship through color, as well as a conceptual relationship in this gouache. "Ice" and "Arctic" are used to express that the products contained in these packages are cool and refreshing. The imagery used will no longer be relevant if the pollution created in manufacturing these products continues to heat up the earth."

Shades of Green; Amphorae ca. 2012, 2012 (above): "This work depicts six discarded plastic and glass bottles posed on a driftwood board in evening winter light. This salty and surreal row of discarded "green" bottles appears to have surfed ashore on ocean waves, escaping intact from an antiquities exhibit case from the future, complete with a trompe l'oeil museum tag lying among the rocks in the foreground. Illustrating the ubiquitous use of the word "green" as "ecological", as well as "green" as "color", the painting equates common soda bottles with priceless ancient Greek amphorae, and provokes questions about the impact and value of 21st century consumer culture on future generations."
From Global Footprint Network:

Some of each person's Ecological Footprint is dependent upon choices they make in their own life, such as how much they drive, recycle and purchase new products.

From Earth Day Network:

This artist addresses the adverse effects of excessive consumption on the marine ecosystem, but this trend also impacts our supply of freshwater.  We examine the diminishing supply of groundwater in the following excerpt from our blog.  You can view the full blog post here.

The University of California, Irvine (UCI) recently released two studies using data from NASA's Gravity Recovery and Climate Experiment (GRACE) satellites showing that the earth's biggest groundwater basins are being depleted at troubling rates. The GRACE satellites observed the 37 largest aquifers on the planet by measuring their gravitational pull over the course of ten years, from 2003 to 2013. Out of these 37 aquifers, 21 were found to have exceeded their sustainability "tipping points," which means they lose more water every year than can be naturally replenished by rainfall and snow melt. Out of those 21 aquifers, 8 are "overstressed" and are receiving little, if any, "natural replenishment" to restore their water resources. An additional five aquifers are designated as "extremely or highly stressed," meaning they are "still in trouble" but have "some water flowing back into them."

The most overstressed groundwater source in the world is the Arabian Aquifer System that supplies water to more than 60 million people. The second-most overstressed aquifer is the Indus Basin aquifer in northwestern Indian and Pakistan, followed by the Murzuk-Djado Basin in northern Africa. While not in the top three most stressed aquifers, the California Central Valley Aquifer System is still considered "highly stressed." In California, 46% of the state's water is supplied by groundwater sources, which are necessary for agriculture. California is currently in its fourth year of drought and people rely on aquifers more heavily during droughts because of a lack of rainfall. Places like the Amazon Basin and the Great Plans are doing slightly better because of their sparse populations and use of rainwater for crops.
Unfortunately, it is completely unknown how much water is left in these groundwater basins. Estimates range from decades to millennia. It is possible for scientists to drill into the basins to determine how much water remains, but this is an expensive process and funding for a project like this does not currently exist. However, it is necessary to find out how much water remains because around two billion people rely on underground aquifers for their freshwater. There is already ecological damage from the water depletion, including diminished rivers, a decrease in water quality, and subsiding land. Climate change and population growth are expected intensify the depletion.
Karen Hackenberg portrays trash in large-scale, realist paintings.  Compare the work of Mary Mattingly, who incorporates her own trash in self-referential performances.  Mary Mattingly will be featured in Part II of the exhibition.

Life of Objects by Mary Mattingly © 2013, courtesy of the artist and Robert Mann Gallery
Featured Actions:

* Kick the bottled water habit!  Drink tap water in a reusable water bottle.

* Reduce the use of disposable plastic bags and containers!  Bring a canvas bag and reusable containers to carry groceries and leftovers instead of using new plastic bags and containers.

* Your pledge will be counted in Earth Day Network's "A Billion Acts of Green" campaign.  Learn more about this campaign here.
Reserved for future conversations.