Inspiring and inciting awareness of social and environmental issues around the world through the transformative power of art.
SPRING 2010
IN THIS ISSUE
Tijuana Launch | Press | Upcoming | West Africa | Joyful Heart | Feature | Nature's Toolbox
LETTER FROM THE EXECUTIVE DIRECTOR
Dear Friends:

The first quarter of 2010 has been an exciting one for Art Works for Change, with plans and exhibitions extending from Asia to Africa. Our premiere exhibition, "Off the Beaten Path," opened to acclaim in Tijuana, Mexico, while our second exhibition, on biodiversity, has been invited by the United Nations to the Shanghai Expo and to Nagoya, Japan. Our funding prospects remain strong and opportunities for partnership are flourishing.

Details on all of this and more follow below.

As always, I look forward to your comments. Don't hesitate to contact me if you have ideas of funders, partners, or media organizations that should know about our work. rjr@artworksforchange.org

Thanks and best wishes.



Randy Jayne Rosenberg
Executive Director and Chief Curator
OFF THE BEATEN PATH LAUNCHES IN TIJUANA WITH FANFARE
In February, Art Works for Change just launched the "Off the Beaten Path: Violence, Women & Art" exhibition in Tijuana, Mexico, at the Tijuana Cultural Center/EL CUBO on Feb. 5. We couldn't be more pleased with the opening, which welcomed hundreds of visitors and a strong media presence.

The audience lingered over the artwork and many approached our curator, Randy Rosenberg, to weigh in on the issue of violence against women and girls in Mexico. One woman called our show a necessary "wake-up call".

We are delighted by the programming that Cultural Center in Tijuana, CECUT, has developed for the exhibition. For example, they have created conferences and invited school groups and women's groups to attend the exhibition providing transportation as needed.

Art Works For Change has created a touchscreen bi-lingual learning center (English and Spanish) to accompany the exhibition.

The exhibition booklet can be downloaded as a PDF here.

The exhibition will remain in Tijuana through April 4, 2010.
OFF THE BEATEN PATH RECEIVES HIGH PRAISE FROM ART CRITIC
During OTBP's North American debut at the University Art Gallery at the University of California, San Diego, Robert Pincus, the estimable art critic for The San Diego Union-Tribune toured our exhibition and gave the show a winning critique, "A Visceral Take On a Historic Wrong".

Additionally, publications from Tijuana published articles about the opening and exhibition: El Mexicano, El Universal, Ciudad Tijuana, La Prensa San Diego and Poder Edomex

UPCOMING VENUES
We are pleased to announce that Off the Beaten Path will be coming to Museo Universitario del Chopo in Mexico City from September 4 — November 7, 2010 and to Chicago Cultural Center from January 22 — April 10, 2011. We are working on confirming the show in Dallas, Toronto, Atlanta, Geneva, Johannesburg, Cape Town, Hanoi, New York, Guadalajara, Oaxaca, and other cities.

Due to renovation schedule changes in Mexico City, we have an opening in our schedule from May — August of this year. If you are interested in hosting the exhibition during this time period, please contact Andrew Ütt for further details.
OFF THE BEATEN PATH PREPARES FOR WEST AFRICAN SHOWS
Art Works For Change is producing a modified version of Off the Beaten Path specifically for the West African region as part of the UN campaign to eliminate violence against women on that continent. We have just brought on London-based Susan Mensah to organize this groundbreaking exhibition to debut in Accra, Ghana, and tour Ethiopia, Senegal, and Nigeria. We will include West African artists, and provide inexpensive cameras to girls in each community, enabling them to document their lives, participate in the exhibition, and make their voices heard.
AT THE JOYFUL HEART FOUNDATION CONFERENCE
Actor Mariska Hartigay's nonprofit, Joyful Heart Foundation, whose mission is to help survivors of sexual assault, domestic violence and child abuse, joined forces with the U.S. Department of Justice and invited Art Works For Change to bring Off the Beaten Path to its recent San Francisco conference addressing violence against women. The event was attended by representatives from all 50 U.S. states. Though it is impractical to bring the full exhibition to such conferences, it gave us the opportunity to think about the creation of new versions of the exhibition so that it can have a presence at many events. In the end, Art Works For Change was able to participate with artworks on a small scale and shared exhibition brochures with all attendees.
VOICES AND FACES PROJECT FEATURED IN DOCUMENTARY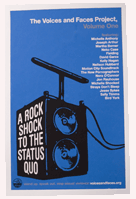 Off the Beaten Path partner, The Voices and Faces Project, a national documentary project for survivors of sexual violence, is being featured in a new video created by The Office of Victims of Crime (OVC) at the U.S. Department of Justice. Directed by Emmy Award-winning journalist Robin Smith, this mini-documentary reflects on the unique challenges faced by victims, and calls us to respond to their cases with fairness, dignity and respect.

We encourage you to view this moving and important video, one that serves as a powerful reminder that though we have made terrific progress in the fight for the rights of victims, there is still much important work to be done.
NATURE'S TOOLBOX LAUNCHES
WORLD ENVIRONMENT DAY IN KIGALI, RWANDA — JUNE

Art Works For Change will launch a new art and technology exhibition in Kigali, Rwanda for the United Nations Environment Programme's World Environment Day 2010 celebration. This year's theme — "Many Species. One Planet. One Future" — underscores the significance of biodiversity and the urgent need for conservation action by all stakeholders. Our exhibition will directly link humans and their environments using photography, storytelling and an innovative system of barcode technology that allows viewers to hear the environmental story via their cell phones.
"NATURE OF CITIES" AT THE SHANGHAI EXPO — JULY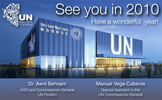 Executive Director Randy Rosenberg recently returned from travels to Japan and China, to solidify arrangements for our new digital media installation to be exhibited as part of the
Council of the Parties (COP10) conference in Nagoya, and the United Nations Pavilion at the Shanghai Expo, both later this year.
For those events, we have invited video artists, architects, animators to each create short videos that deliver a simple message: nature is an important model and mentor for solving human problems. The goal of exhibition is to help viewers understand the power and beauty of nature's genius — the 3.8 billion years of Earth's "research and development" upon which we live and breathe every day. Therein lies a deep reservoir of wisdom: blueprints, recipes and strategies for how to live gracefully in ways that create conditions conducive so that life — and we — may thrive.
In 2011, we will combine the Shanghai installation and the Rwanda project into an expanded exhibition, titled "Nature's Toolbox," that will begin traveling to museums around the world.
If you are interested in participating in this exhibition, please contact us at
info@artworksforchange.org
ART WORKS FOR CHANGE
Art Works for Change is seeking host venues and sponsorship for all projects.
Please contact info@artworksforchange.org for more information.
Art Works For Change, Inc. is a California nonprofit public benefit corporation.