Art Alters the Atmosphere
First in an ongoing series by Marcia Tanner
Deliberately or not, all art — even what looks like purely formalist or abstract art — works for change. The change may be perceptual: art can tweak your habitual ways of seeing and sensing, It can heighten your awareness of things formerly unnoticed or discounted. The change may also be conceptual: art can rearrange your ways of thinking and responding to the world. It may even transform your consciousness and spur you to action. Much depends on the artist's intention, his/her vision and skill, and your own receptivity to the work.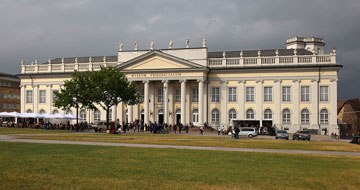 Artist Ryan Gander's gentle intervention in the main exhibition hall at last year's dOCUMENTA13 (1) made this transaction tangible. He left the two ground floor entry galleries nearly empty of objects, filling them instead with a barely noticeable cool breeze that ruffled your hair, aerating the tranquil light-filled spaces.
It would have been tempting to dismiss Gander's piece as a content-free one-liner, but for me it was a head-clearing exercise. It created a tabula rasa space for the imagination to expand and breathe, an oasis of visual silence for opening eyes, mind and heart to the challenging diversity of art that lay ahead. "You will feel it altering the atmosphere, as all art should," wrote New York Times art critic Roberta Smith, describing another piece in a current exhibition at New York's Museum of Modern Art. (2)
The contemporary art exhibitions and other art projects developed by Art Works For Change are aimed at altering the atmosphere for specific ends. AWFC's goal is to "harness the power of art" as a tool/strategy for social and environmental activism. This blog will offer an ongoing exploration of the ever-expanding variety of ways and means contemporary artists use to "promote awareness, provoke dialogue, and inspire action" in their work. (3)
HOW DO ARTISTS USE SOCIAL MEDIA?
How do activist artists use social media, for instance?  One powerful example is Joseph De Lappe's "dead-in-iraq" (2006-2010) project.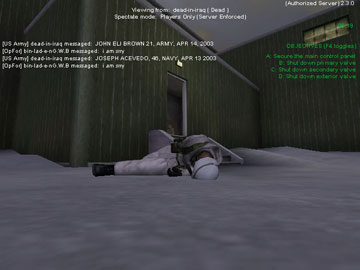 Over several years during the Iraq War, De Lappe intervened repeatedly in the online multiplayer war game "America's Army," a recruiting tool of the U.S. Army.  As "dead-in-iraq" he would enter the game as a non-combatant and proceed to type the name, age, branch of military service and date of death of U.S. military killed in the war, continuing until his avatar was "killed" (usually very quickly).  Over the course of successive deaths and resurrections, "dead-in-iraq" managed to input well over 4,000 names.
To De Lappe's surprise, this piece became an international cause celebre and also apparently did affect young hearts and minds.
WHAT DO WE MEAN BY ACTIVIST ART?
My posts will also ask questions such as: What do we mean by activist art? What's included, what's excluded? Is the artist Tino Seghal, who transforms the public arena of the art museum into a space for experimenting with social interaction and connectivity, an activist artist?
Here is an image from "These Associations," Seghal's 2012 Unilever Commission at the Tate Modern Turbine Hall in London.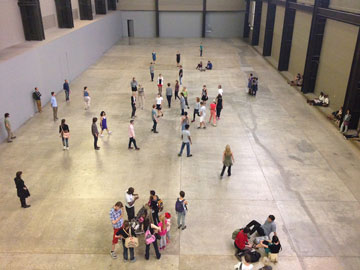 "These Associations" unfolded over an hour with fifty performers using the vast space of the Turbine Hall to engage in energetic, choreographed running, walking, milling around each other in intricate eddies without colliding, chanting, and resting. Their chants literally turned the lights on and off. Periodically, individuals would break off from the group and approach a museum visitor to tell them an intimate personal story that would often result in a real conversation, even an emotional bond, between total strangers.  How do you assess the effectiveness of a piece like this to catalyze significant change in the people who experienced it?
A PLATFORM FOR INQUIRY AND ILLUMINATION
In the weeks and months ahead, I hope this blog will be a platform for inquiry and illumination about contemporary art and artists working for change. I will welcome your questions and comments.  Meanwhile, I'd like to leave you with this image to brighten your New Year.  It's a screenshot for the art project "Transformation: Lehel" (2012) by the artist Tamiko Thiel.
It depicts a "solar hang glider windmill," a computer-animated 3D augmented reality (AR) work that Thiel created to symbolize the hope for a future with renewable energy.  Thiel worked with local residents in the Lehel district of Munich, providing them with an overlay of this virtual object for their smart phone cameras so that their view of this visionary energy source would be superimposed upon their photos of sites around their neighborhood. Thiel incorporated the photos into a video installation on large screens inside a local church. The effect was of new windows in the church, opening out to familiar local scenes energized by a benign, sustainable technology. (4)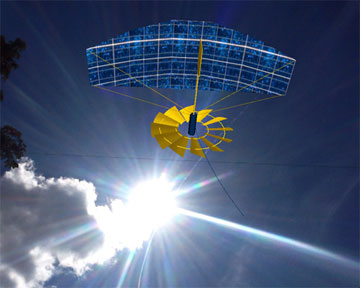 [1] Documenta, founded in 1955, is an international art exhibition that takes over the city of Kassel, Germany every five years. The curator for dOCUMENTA 13 was Carolyn Christov-Bakargiev.
[2] Roberta Smith, "Ambushed by Sundry Treasures," The New York Times, January 3, 2013.
[3] Quotes are from the AWFC mission statement.
[4] "Transformation: Lehel" was produced by pilotraum01 e.V. as part of "overtures ZeitRäume," a project series on sustainability. Curators Serafine Lindemann (artcircolo) and Christian Schoen (kunst | konzepte).